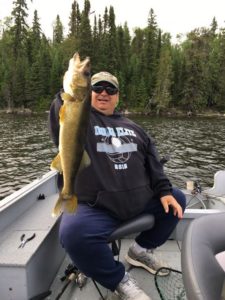 Hi everyone! It is now April 2019 in Northwest Ontario and we are seeing plenty of signs of spring. Most of the snow is melted off the roads and the snow is almost melted enough to get four-wheelers anywhere we want to go. We are getting very busy right now as we are starting to get projects ready for when the snow melts the rest of the way, as well as doing some spring ice fishing!
Projects:
We have a lot of projects for this spring to continue to improve Manotak Lodge here in Northwest Ontario. First on the list are 2 new floating docks. We will be adding length to the new section we put in last year as well as 20 extra feet on the dock closest to the fish house. Cabin 14 is getting a completely new deck, which was much needed. Cabin 16 is getting new floors throughout the cabin.
Purchases:
For your fishing vacation, this year we purchased 2 extra Lund Outfitters with 50HP Yamahas. We are now up to 20 boats in our rental fleet which exceed what you will find with most of our competition in size and quality. While in the states at sport shows, we purchased brand new nets (rsnetsusa.com) for all our boats. These nest were not cheap! These nets are really, really nice. We know a lot of our guests bring their own net and that is okay, but we are pretty positive nobody will want to bring their own after using the new ones. (If you plan to musky fish you should still plan to bring your musky net.) We are continuing to upgrade our seats to the Millennium Marine seats and we are continuing to replace flooring in the boats as needed.
Bookings:
We are very excited to get moving with this fishing season. There are still openings for walleye opener May 18-25! Not many openings at all after that until mid July. July is almost full and August and September are getting filled up more and more every day, so if you are planning a fishing vacation, please give us a call ASAP to find out what is open and book!
Looking forward to seeing all returning guests and meeting all our new guests! It is going to be an amazing summer here in Perrault Falls, Ontario!