Hi everyone. Sorry for no fishing report from last week we have been super busy around here with a full camp and starting to get things ready for the big shut down in a couple weeks. The past couple weeks of fishing have been hot. The perch bite has been crazy, pike fishing has been good, and the walleyes have been big, fat, and plentiful.
Walleyes are down in the 25-30ft range right now putting on a feed for the winter. The fish are schooled up in large numbers right now and are biting jigging raps, minnows, and crawlers like crazy. Sandbar has been good almost every evening, but you don't have to fish late to catch them. The humps have been good all day long.
Northern have been on the deep weed lines and chasing spinner and spoons. The really jumbo northern are in the rocks close to deep water.
Perch have been biting the best in Spadina on mostly crawlers, but we have seen a lot caught on minnows also. We have cleaned a large number of perch in the past couple of weeks. 200-300 per day has been normal for us to clean.
This musky was caught by Steve, our guide, last week! It was not measured but was well over 55″ long. She was quickly released for another angler to try and catch!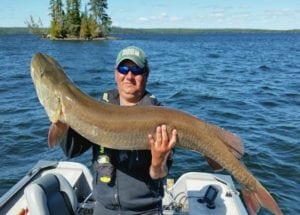 With only a few weeks left in season we are preparing for website updates and sport show season. We need your pictures!! Scenery, fish, or anything else that involves your vacation please send us the pictures. We love seeing them!