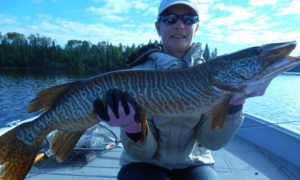 Hi everyone! We hope that everyone has had a fun summer so far! We have truly been lost this summer without all of our amazing guests. We would like to thank each and every one of you for working with us and being so understanding as we move your trips to next summer. As many of you know, the Canadian/ US boarder will remain closed until September 21st 2020 to any non-essential travel. The boarder closure has been very devastating to the economy of Northwest Ontario this summer. With that being said, we hope you all found fun ways to spend your vacations in the US!
On a normal year we would do weekly fishing reports. Since this year is not normal, we haven't done any yet. So, we will give you a quick summary here on the walleyes. We really haven't done anything other than walleye fish so far this summer.
The walleye bite has been amazing this year as usual. We have personally boated at least 10 fish over 25 inches so far this year. We have NOT boated a 30" yet, so fingers crossed we can break the 30" mark before the white stuff starts falling. The walleyes moved out to the rock piles around the last week of June like normal. The slip bobber and leech bite hit its peak around July 10th this year. The fish are now back to liking the minnows as they are down in the 25-30' range. We have had countless nights this summer where 2 of us can go out and catch 30-40 walleyes in just a couple hours.
The lake level is fairly low right now due to extremely dry weather. We are hoping for lots of snow this winter to make up for the dry summer. We have been doing a few projects around camp to spruce things up. We fished the renovations to the bathroom of Cabin 14 this spring which turned out beautiful. We are planning on doing some work in Cabin 1/ 1A on getting the old showers replaced. We did some bathroom work to cabin 9 as well. We have also been doing some painting. As always, we have been spending 14-16 hours per week mowing and weed eating to keep the yard looking as good as ever.
Just a reminder that if you aren't in the book for 2021 to book ASAP as all of 2020s guests were moved to 2021. We have limited spots compared to what we normally have this time of year, especially the housekeeping cabins. We are expecting that by January/February we may be awfully close to sold out for the whole summer! We will be re-confirming all 2021 guests in December.
Again, we want to thank all of our guests for your understanding and support through these tough times in Northwest Ontario!

-Steve, Christine, and Jeremiah