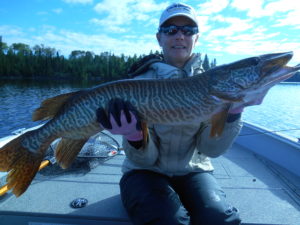 It was so good to be back doing what we love! We were happy to see everyone again after two years of being shut down. The fishing was incredible and we were blessed with a wonderful staff to look after your needs. Thank you to everyone who stuck with us for two years and visited this summer.

BORDER CROSSING
The vaccine mandate is no longer an issue and you can cross the Canada border as you did prior to 2020.

FISHING REPORT
Perrault Lake is an amazing fishery and with two years of no fishing pressure combined with our conservation efforts of leaving all the big spawners in the lake, we knew 2022 would produce many trophy fish of all species. Almost every week there was at least one 30" walleye caught and everyone saying it was hard to catch fish under 18" to eat for shore lunch. Big fish is a great problem to have! Many guests caught personal best size walleye this summer.

Northern pike have also become more plentiful. The largest we heard about was 43" long! The guys at the dock cleaned a lot of pike! They were easy to find and fun to catch.

Muskie fishing on Perrault Lake and Cedar Lake is some of the best in the world. Many muskie in the 40"+ range were caught. Tons of follows and sightings of giant 50"+ muskie were common. Unfortunately, the road to our muskie only lake, Fluke Lake, was impassable so we were unable to send fishermen into that lake. We are hoping the road will be fixed before muskie season 2023.
Smallmouth bass were plentiful and big all season. The largest measured 22"! These fish are so fun to catch and look like fish footballs!

Perch came on late and were harder to find this year because of the flooding and high water making it a late season for vegetation. We cleaned and wrapped hundreds of jumbo perch over 10".

PROJECTS
With the late spring, flooding and high water, there were many planned projects which did not get completed. We have many plans for improvements so hopefully the weather will cooperate in 2023!

DEPOSITS
Now is the time to send your deposits for 2023 if you made a reservation at the end of your 2022 trip. We are asking that all deposits be made by December 1, 2022, for existing reservations. New reservations have 14 days to send in deposits to secure date and cabin selections.

Here is the deposit policy. Mail deposits to: Manotak Lodge, PO Box 7406, Bloomington, IN 47407

We require a $250 USD per person deposit to hold your cabin. Deposits are not refundable and not transferable to another group. Groups who arrive with less than their confirmed number of persons will forfeit the deposit of each absent member. Reservations are confirmed and guaranteed only when a deposit has been received. Deposits must be paid within 14 days or cabin will be forfeited. Deposits may be paid with a personal check, money order, bank draft, VISA or Master Card. Credit card deposits will be charged a 5% fee. Please be sure to reserve the exact dates you require; there will be no deductions for early departures. Balance owed at check-out must be paid preferably by personal check or cash. We also accept Travelers Checks, VISA, or MasterCard. Deposits and invoices settled by credit card will be charged a 5% fee.

RESERVATIONS
Right now, we are SOLD OUT for June 3 to July 1. We have openings for May 20 – May 27 and May 27 – June 3 and then from July 1-8 through Sept 16-23. Click the Book Now button on any webpage to send us a reservation inquiry. Or give us a call 800-541-3431.

SPORTS SHOWS
We will be attending the following 2023 sports shows:
January 6-8 Let's Go Fishing Show Collinsville, IL
January 20-27 All Canada Show Milwaukee, WI
January 26-29 All Canada Show Green Bay, WI
February 2-5 All Canada Show Chicago, IL

CONTACT US AND THANK YOU
Please call or email with any questions you have about a fishing vacation to Manotak Lodge. We are here to help you plan a wonderful vacation.

Thank you to our loyal customers and we look forward to meeting all of our new guests!

Wishing everyone a joyous holiday season!

Steve, Christine, and Jeremiah Swafford
Manotak Lodge
PO Box 7406
Bloomington, IN 47407
800-541-3431 OR 807-529-3231
www.manotak.com
manotaklodge@gmail.com